It's a pre-folded PE film that feature pre-taped edge of professional grade masking tape. Pre-folded, high-density, nonporous film protects surfaces from painting and spraying. No adhesive residue. Paint will not seep through tape. Clean, easy removal saves cleanup time. Easy to apply, specially designed for professional painter or DIY user.

Features
Easy to handle roll, unfold, paste on and use
Very helpful to achieve a neat finish
To improve the efficiency of work
To speed up the work
To save in labor cost
Usage
Used for car painting and spraying
Used for house painting
Anyone that wants to protect items from airborne particles.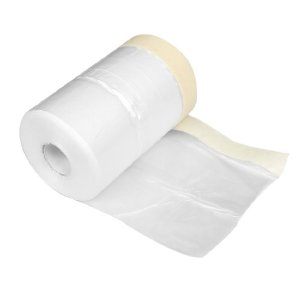 MF 653 Spray Painting Masking Film 55cm x 20 meter
Product Code: 1259
Availability: In Stock
RM7.00

QR Code
Related Products